Investment Opportunities & Portfolio Benefits Driven By Natural & Unnatural Events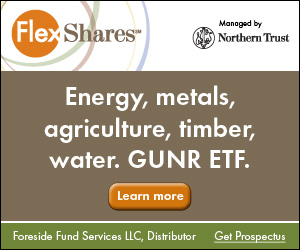 Investing in natural resources offers the opportunity to own precious and usually scarce assets harvested from the Earth. These natural elements have an appeal to many investors today as both natural events and unnatural events continue to create opportunities for astute investors while delivering attractive portfolio benefits. Before examining the benefits of investing in natural resources, let's examine the many factors driving its appeal.
Natural Events
Despite the technology that exists today, nature can't be controlled and can greatly impact businesses and investments. This summer is a prime example as a record drought has struck the United States. Accordingly farmers have lost some if not all their crops. This in turn has driven up the price of agricultural resources including corn and wheat.

Here's a three-month NASDAQ chart displaying the performance of several agriculture ETFs. They include the Teucrium Corn ETF (CORN), the Teucrium Wheat Fund (WEAT) and the PowerShares DB Agriculture Fund (DBA), a broad-based agriculture ETF. Their performance is compared to the SPDR S&P 500 ETF (SPY).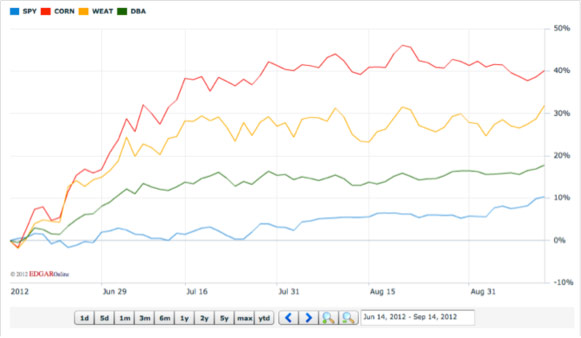 Besides weather events, another development driving natural resource demand is population growth. Population growth places stress on key natural resources for life including: water, food, energy and timber. Water and food are particularly becoming more valuable as populations are becoming more urbanized, placing concentrated demand on relatively small geographic areas.

In addition larger populations require more energy, primarily in the form of fossil fuels, to power mechanisms used to meet water and food supply needs. After those basic needs are met, energy is paramount for transportation, heating and the operation of equipment used to power economic production. And timber is a key component for housing construction, furniture, and paper products.
Unnatural Events
Mankind creates many unnatural drivers of demand for natural resources due to economic, fiscal and political developments. Today for example, demand for metals like gold, silver and platinum is rocketing as more liquidity is injected into the global financial system by central banks around the world. This injection has caused investors to seek the "safety" of scarce precious metals to hedge against currency devaluation.

Just in the last month, as the liquidity move was anticipated and then witnessed by investors, metals like gold, silver and platinum have outperformed both the S&P 500 ETF (SPY) and the PowerShares DB U.S. Dollar Bullish ETF (UUP). Here's another chart comparing the aforementioned ETFs to the SPDR Gold Trust (GLD), the iShares Silver Trust (SLV) and the ETF Securities Physical Platinum Shares (PPLT).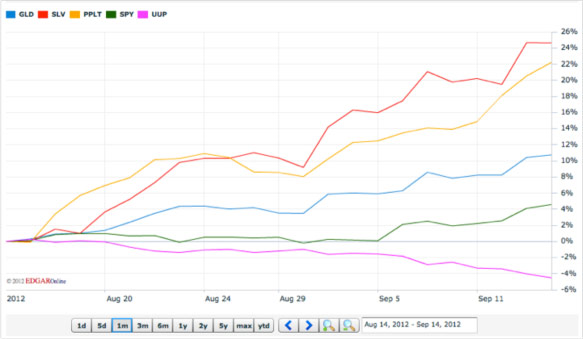 In addition, other hard assets are being sought to hedge against a risk that may emerge in the future due to increased liquidity: inflation. Assets like timber, oil and even agricultural commodities could see inflation due to the value of paper currency weakening and prices inflating accordingly. Gaining exposure to these hard assets may help investors avoid a portion of the negative portfolio and purchasing power aspects to inflationary environments.
Benefits Of Natural Resource Investing
The portfolio benefits of natural resource investing may include price appreciation, diversification and risk mitigation. These benefits are becoming increasingly attractive to investors in a world that seemingly sees new developments and risks – both natural and unnatural – affecting markets each week.

As evidenced in the charts above, the price appreciation of natural resources including metals, agricultural commodities and energy can be material and unique to the natural resource market segment. Numerous events and long-term trends may elevate the value of these resources quickly and materially. This is likely due to the combination of natural resource scarcity and their status as key components to fulfill the basic needs of mankind.

Besides the potential for returns, natural resource investing offers investors a benefit which is of growing importance: diversification. Owners of natural resource investments often see unique behavior of this market segment as valuations and directional movement is heavily influenced by the basic supply and demand of the actual resources. Thus supply disruptions caused by the weather or demand decreases due to government action often cause natural resource investments to respond differently in speed, scope and direction to traditional stock and bond investments.

Finally, the risk mitigation potential of natural resource investing is a quiet but potentially major benefit to investors going forward. Whether the risk is inflation, currency devaluation, weather or even demographics, exposure to natural resources may help to lessen the impact of those events.

For many portfolios, adding exposure to natural resources has the potential to diversify holdings, hedge against material risks and potentially generate attractive returns. As we have witnessed this year, essential natural resources have increased in value due to natural and unnatural developments.

Next week on October 16th we will examine natural resources including energy, agriculture, water, timber and metals in closer detail.
---
About FlexShares:
FlexShares® exchange traded funds are designed with investors' real-world goals in mind. Each ETF employs a distinct strategy to pursue targeted investment outcomes. FlexShares' versatile products can be adapted to a variety of investment needs to construct, allocate and manage portfolios. FlexShares ETFs are distributed by Foreside Fund Services LLC.
---
About Christian Magoon:
Christian Magoon has launched over 40 ETFs to date and is Publisher of ETF websites GoldETFs.biz and IndiaETFs.com. He has been named an "ETF Pioneer" and one of "Five ETF Experts To Follow On Twitter" by industry publications. Christian regularly contributes ETF content to NASDAQ.com and ETF Daily News.